Q Smokehouse
Authentic southern bbq is what Q Smokehouse is all about. The old-school pitmasters hand-rub the meats with a custom blend of spices and cook for hours to extract the natural flavors. Before the ribs are served, they're hand-pulled from the smoker and tossed on the grill to caramelize the sauces, creating a chargrilled sweetness on the outside locking in the deep-down smoky flavor. Check out the list of crafty cocktails plus a nice wine and beer list to pair with your 'Q.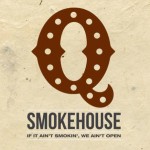 Naples Rib Company
Naples Rib Company offers a complete selection of aged mid-western corn-fed USDA choice steaks and prime rib, fresh grilled swordfish, chicken, fresh salads and sandwiches. Belly up to the brass plated bar or stake claim to a booth or table. The Rib Company caters to all kinds of tastes and guests with a children's menu and senior citizen specials. It's just the place for people who enjoy good food in a place that enjoys their company. Come in and see why we've been a Long Beach favorite for decades.
Signature Drink:
Rib Co. Mai Tai
$$8
Orange and Pineapple Juice, Disaronna, Light Rum with a Dark Rum Float.