neighborhood: East Village
Steamed Cuisine
Located in a small building near the corner of 3rd and Alamitos is this all vegetarian and vegan dining destination. Meals are prepared using steam, hence the name, to keep nutrition in while allowing flavors out. There is no grill, fryer or microwave on the premises at this clean eating café. Produce is procured from local farmers, menus printed on banana paper, paper goods are recyclable, silverware is upcycled and vintage, and the food is as fresh as you can get without growing and plucking yourself.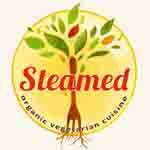 Great Society Cider & Mead
Great Society Cider & Mead is a modern-day social house where fine food, craft cider and mead (an time-honored process where wine is created by fermenting honey) set the stage for conversations. Boasting the largest selection of craft cider and meads in SoCal, this is where you can quench your thirst with 20 draughts and more in bottles plus an extensive cider and mead list showcasing craft producers from nearly every corner of the world. Whet your palate with flavors and profiles ranging from sweet to sour, still to sparkling, barrel-aged to hopped, rare to near-impossible to find. Complementing the beverage offerings is a menu that fuses seasonal fare with unexpected spicing to create dishes that don't just taste great, but pair well with whatever profile you choose. Try a signature burger with an unfiltered whiskey barrel-aged cider from Michigan, or an artisanal cheese plate with a tart, lightly sparkling Sidra from the Basque region of Spain. You'll never leave hungry or thirsty - that's a promise.
Sweet Dixie Kitchen
Southern goodness redefined at Sweet Dixie Kitchen in the East Village. It's food that connects the soul with the spirit. The owners stay faithful to their southern roots creating the familiar big flavor, but with conscious healthier cooking methods and seasonal perfection. The restaurant is know for their to Biscuit-Witch, delicious sandwiches served on SDK's tasty and flakey biscuits, as well as waffle sandwiches and award-winning pastries. Everything is made from scratch on the premises, including the decadent bacon jam and siracha sour cream sauce. Like they say at Sweet Dixie Kitchen: Stay Local- Stay Happy- and always Eat Well.