Cuisine:
Cocktails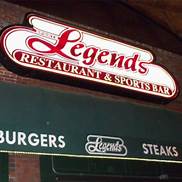 Legend's
Founded by former L.A. Rams offensive lineman Dennis Harrah, Legends has been an iconic place to gather for more than 40 years.  Enjoy a menu beefy burgers, buckets of tangy wings, pasta, steaks, salads and more. Belly up to the long bar for an ice-cold rew or handcrafted cocktail, check out the fleet of flat screens for the latest sporting events, dine indoors or stake claim to a sidewalk table. They don't call it Legends for nothing.
Signature Drink:
Pink Lemon Drop Martini, Jack Daniels Tennessee Apple or 16-ounce Stella Artois
$0
Included with Dine Out Long Beach menu
Imaginary Breadsticks
$3
While these are just that, imaginary, you'll get nourishment knowing that 100% of proceeds go to Restaurants Care, a non-profit assisting California restaurant owners and workers facing hardship.
5236 E. 2nd Street
Long Beach, CA 90803